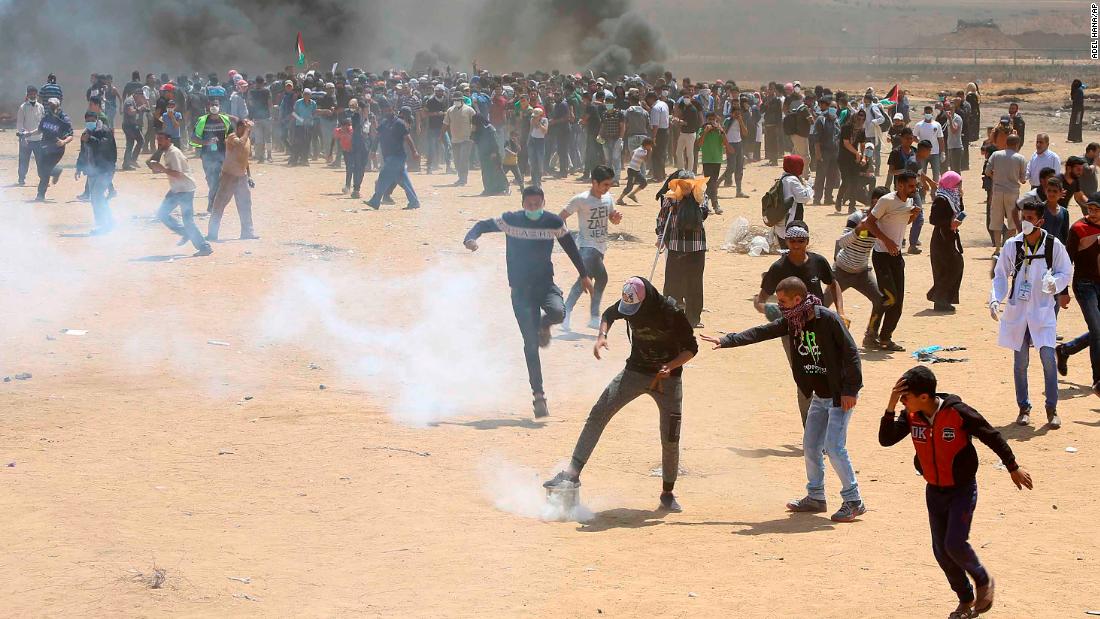 Gaza has seen the wide majority of the violence today, where more than 40 people were killed. But crowds of protesters are facing off with Israeli authorities in the West Bank as well.
Both areas have historically been at the center of the conflict between Israel and the Palestinian people.
This video, shot by CNN, shows the stand off in Qalandia, West Bank, where Palestinian Minister of Education, Sabri Saidam, said people had gathered to say "no to Trump."
15 min ago
From CNN's Sarah El Sirgany
The Palestinian authority has called for an "immediate and urgent international intervention" to stop the "horrific massacre committed by the Israeli Occupational forces against our heroic people," the government spokesman Youssef Mahmoud said in a statement.
At least 43 people have been killed in protests in Gaza today, making it the deadliest day since this wave of protests began in March.
Mahmoud called upon Arab, Muslim and "friendly" governments "to exert their utmost effort to intervene to stop the bloodshed" and to "standby the Palestinian leadership in the face of the aggression of the Israeli occupation."
44 min ago
From CNN's Stephanie Halasz
France disapproves of the US embassy's move from Tel Aviv to Jerusalem, the French Foreign Ministry said in a statement on Monday.
"This decision contravenes international law and in particular the resolutions of the Security Council and the UN General Assembly," the statement reads.
The ministry calls on "all actors to show responsibility to prevent a new fire."
"It is urgent to recreate the conditions necessary for a search for a political solution, in a region already marked by strong tensions," the French Foreign Ministry says.
Senate Minority Leader Chuck Schumer just released this statement showing support of President Trump's decision to the move the US embassy in Israel to Jerusalem:
"In a long overdue move, we have moved our embassy to Jerusalem. Every nation should have the right to choose its capital. I sponsored legislation to do this two decades ago, and I applaud President Trump for doing it."
1 hr ago
From CNN's Ameera Ahmad
At least 43 people have been killed during clashes Monday along the border fence between Israel and Gaza, according to the Palestinian Ministry of Health.
This is the biggest number of fatalities suffered in one day since the latest round of demonstrations began more than six weeks ago. The previous highest number was 17 on March 30, the first day of protests.
By a CNN count, based on Ministry of Health figures, more than 90 people have been killed in the demonstrations since March 30.
Secretary of State Mike Pompeo just released a statement following Jared Kushner's remarks at the US embassy opening in Jerusalem.
In the statement, Pompeo praised President Trump for keeping his promises and noted that the United States is still committed to the peace process between Israel and Palestinians.
As the US opened its embassy today, at least 41 people have been killed in protests in Gaza.
Here's Pompeo's full statement:
Speaking at the US embassy opening in Jerusalem, Israeli Prime Minister Benjamin Netanyahu thanked President Trump for keeping his promise — something Jared Kushner also brought up during his remarks.
"Thank you, President Trump, for having the courage to keep your promise."
He added in a tweet: "Thank you, President Trump for making the alliance between Israel and the United States stronger than ever."
Two controversial US pastors spoke at today's embassy opening: Robert Jeffress and John Hagee.
Jeffress has called mormonism a cult; has called Islam an "evil religion" and suggested the Catholic church was lead astray by Satan.
Hagee came under the national political spotlight in 2008 for comments that prompted then-Republican presidential candidate John McCain to reject his endorsement. One of Hagee's sermons in the 1990s was leaked that seemed to suggest that Adolf Hitler had been fulfilling God's will by aiding the desire of Jews to return to Israel in accordance with biblical prophecy.
As the US opens its embassy in Jerusalem, protests in Gaza have turned deadly. At least 41 people have been killed in clashes right on the border, according to health officials.
Here are videos taken at the scene:
The video below appears to show tear gas being fired at protesters near the Israeli border:
Please enable JavaScript for a better experience.